How is everyone doing? Are there good things happening in your life, or not so much? Me, well…I'm struggling a bit these days. Still trying to wrap my head around the fact that now both of my parents are no longer here. And feeling helpless when it comes to my oldest spawn and some serious issues she is struggling with.
Then there's the state of the world. Despite all of the deplorable and inexplicable behaviors of the Con-Man-In-Chief and his ilk, karma has yet to make an appearance. People around the world are suffering needlessly due to poverty and the messed up priorities of the governments serving them. Women's reproductive rights continue to be under attack.
Yes, Karma is taking her own sweet fudging time and she's starting to piss me off.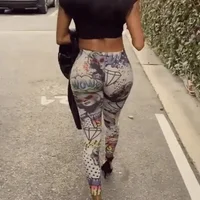 Let's just say my faith in humanity is a bit shaky these days.
It would be in my best interest to remember this:
Good things are happening too, though, in my personal life anyway. That I can't deny. My hours at work are being increased in a few months, so that I can take on more responsibility and expand my skill set to better serve our seniors. It makes me feel good that my efforts are appreciated and my employer believes in my abilities.
Hubs and I have planned a getaway to visit his parents and sister (I am so grateful for these three people in my life) in Wisconsin and then will spend a couple of days with our youngest spawn in their adopted hometown of Indianapolis at the end of May. This is something to look forward to.
But in the meantime…well, I just don't know. Grief and how people have disappointed me lately in various ways are getting me down. It's temporary, certainly. The weight of it all, the sense of futility I'm feeling. Well, I think for today anyway I'm just going to feel it. Marinate in it for a bit.
Just not for too long.
I recently watched this clip of Leslie Jones on SNL and it cracked me up. This woman is a force, right? When she mentioned Fantasia kicking her shoes off and belting out tunes at her imaginary funeral, it made me think of this video clip I'm sharing below. I'm certain this is what Leslie was referring to, right?
I invite you to tell me about something good happening in your life right now or in the world at large in the comments. Let's share that shit around as much as possible. Because you know we all need it.