Over the past few months, Hubs and I have taken to watching re-runs of "Seinfeld", typically between watching our favorite MSNBC shows in the evenings. You know, to mix things up a little bit. I'm of the opinion that "Seinfeld" is one of those shows that people either love or hate. People either get it or they don't get it. There doesn't seem to be any middle ground here.
I am one of those people who gets it. 
The secret to appreciate this show is this: you are not supposed to like the characters. This is not Friends, people. Unlike popping a cold one and hoping that Rachel and Ross get back together, you will not be rooting for Jerry, Elaine, George, or Kramer. They are not warm, fuzzy, likeable characters. That's not the point of this show. What is the point is that the characters, the writing, and the storylines are consistently hilarious.
I've heard Jerry Seinfeld himself remark that "Seinfeld" is a show about nothing. That to me is not quite accurate. This is a show about hapless, clueless, self-absorbed, single-for-a-reason New Yorkers getting themselves into ridiculous circumstances based on poor choices.
Like any sitcom, some episodes funnier than others. To me, there are multiple character quirks, lines, and scenarios that never fail to crack me up.
Like when George interacts with his parents. These people communicate via loud yelling in most every circumstance. And usually the circumstance, in one way or another, involves one of them perceiving themselves to be wronged by someone else. Like this:
And then there's Kramer. What an original character! I cannot imagine this role being played by anyone other than Michael Richards. His entrances are frequently quite spectacular. Like this one:
Kramer is even funnier here, using his physical comedy skills to the hilt:
Elaine's facial expressions kill me! Like this one: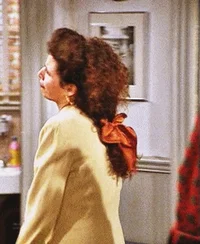 George and his ridiculous lies have been known to make me cackle hysterically, like this one:
And then there's Jerry's straight man one liners that are often comic gold:
"You kept making all the stops?"
This is what I imagine would happen with these four chuckleheads if the show had still been on the air during the Presidential election of 2016:
Kramer would be a big Trump guy. Jerry and George would be completely indecisive. Elaine would be all about Hillary. And all but Kramer would actually vote.
Elaine would try for sure. She would be volunteering for the Hillary campaign where she'd end up in some convoluted circumstance where she'd be competing to get supporters for Hillary against the "bra-less" candy bar heiress. Here she is: 
Somehow it would end with Elaine"winning" a truckload of candy bars for her efforts. But she'd get hung up somehow. Maybe she'd be so pooped she'd fall asleep on the train on the way to the voting venue and end up in New Jersey. Or Kramer would end up driving her and he'd get pulled over by police for throwing candy bars out the window, knocking out an innocent bystander, so Elaine wouldn't make it to vote in time. It would be all for naught, similar to many endings of Seinfeld episodes.
I'm about 88% sure I haven't seen each and every episode of Seinfeld, so tell me, fellow Seinfeldians, what's your favorite one?